To edit and add EXE edits, you need to open FGD files in Firegraft's data.mpq file. I've attached a modified version with the ones found so far. It also contains several hundred "dummy entries" so new EXE Edits can be added without the need to restart the Firegraft portion of your project.
FGD files are plain text, and can be edited through Notepad.
Be careful! Due to the nature of EXE edits, you can easily crash StarCraft if you're not careful.
Here are the first two entries in 115b.fgd.
Each listing is preceded by a number, a unique ID to each of them.
Then there are a few categories that each one has. Entry, Offset, Size, and Type. Some also have Change, Hint, IsSigned, IsLong, Next, and Prev and VarType.
Entry:
A comma deliminated list of at least two items, used to form the tree view and label. It's in the format of "Main group, subgroup (and possibly more), entry, edit value".
Hint:
Text displayed in the hint box.
Offset:
A memory offset, added to the MemBase value (Found at the top of the FGD file. I'll explore that area later.).
Size:
Size of the value in bytes.
Type:
Const (Where you enter a value), Code (An enabled/disabled dropdown), and Jump (Also an enabled/disabled dropdown.)
VarType:
How the Const values are controlled, with a value of 1-5. Only valid on Const
no variable type
editable constant variable type
Units.dat list
upgrades.dat list
tech_data.dat list
extended unit list (Firegraft units tab)/list]


Change:

Appears to be byte(s) overwritten in Code and Jump options.


IsSigned:

Whether or not the value is signed (can be negative) or not. Only valid on Const.


IsLong:

Whether or not the value is a long (anywhere in the program) or local (same area of the program) jump. Only valid on Jump


Next:

Next entry index in menus with multiple options (See starting workers to see what I mean).


Prev:

Previous entry index in menus with multiple options.





Introduction



There are various ways to update and find new EXE Edits for StarCraft. This tutorial covers one of the simpler ways.



What You'll Need

StarCraft and Brood War (Obviously).
BWAIDowngrader v1.16.1e downgrader (You'll be using this a lot).
Firegraft for 1.16.1.
A debugging tool (This tutorial will be based on Cheat Engine
A text editor. Notepad is fine.
Updating the Offsets
You'll need to access the memory viewer of Cheat Engine.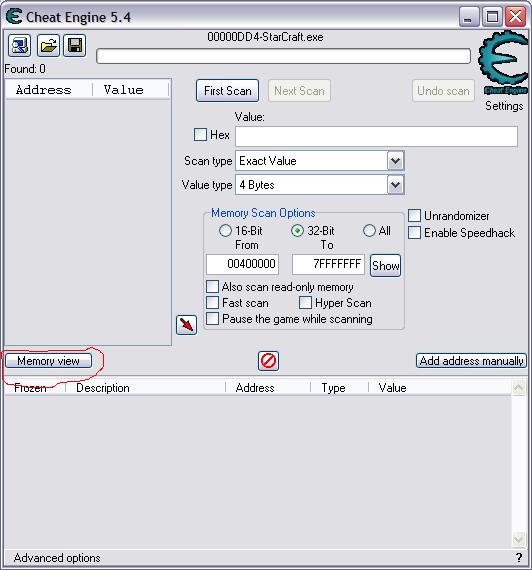 The memory viewer is split into two parts, the code viewer and the hex viewer. For this tutorial we'll be using the code viewer.
Open the 115b.fgd file in a text editor and choose an offset to adjust. For this tutorial we'll be using #0, "Initial Zerg Building".
Open StarCraft 1.15.1, and switch to back to Cheat Engine. Attach Cheat Engine to StarCraft's process by clicking the open button (Alternatively you can create the process through Cheat Engine).
Right click in the code viewer box, and select go to address. Replace what's written there with the offset found in 115b.fgd. You'll need to leave in the starting 004.
If you've done it right, the top line of the code viewer should read this:
That probably sounds like gibberish to you. The reason for that is simple: It is gibberish. The line has a meaning, but because we jumped to it incorrectly, Cheat Engine is reading things wrong.
If you scroll up one line, it will change to
That's the correct line. What it means is "Move the 83 to the al register." 83 in hexadecimal is equal to 131 in decimal, the unit number for the Hatchery. Sometimes you'll need to scroll up more than one line. Generally speaking, the correct code will be a move (mov), compare (cmp), or jump (jmp, je, jne, jle, etc).
A register is similar in concept to a variable in higher level programming languages. The difference is they are more limited, and some have special purposes.
Write down the code and address you found, and repeat it for entries 1 and 2. The correct results are shown below.
Upgrade to 1.16.1 and start StarCraft and Cheat Engine again. Go back to the memory viewer. This time we'll be doing an assembly search.
Go to Search -> Find Assembly, and paste in the code from earlier. There will generally be multiple results, so you'll have to do some testing.
Unless the code you're working with was modified, it will be in the same general area.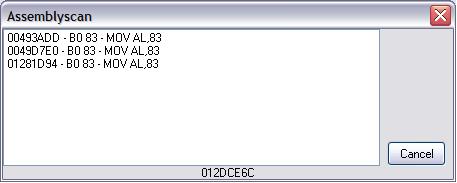 These are the first few results returned. The second one is closest the the previous value, so lets try changing that. Double click on the entry and change 83 to 85. Enter a melee map as a Zerg player. You should see a Hive in place of the Hatchery. Write down the offset you changed (9D7E1), and try the next two. The results are shown below.
In the 1161.fgd file, paste entries 0-2 in, and change the offset values. (The attached version already has these.)
Good luck with your EXE Edit hunting!
@DoA: Let me know if you find any errors with this.
@Everyone:
Last edited by
Mauron
on September 2nd, 2009, 8:47 am, edited 2 times in total.